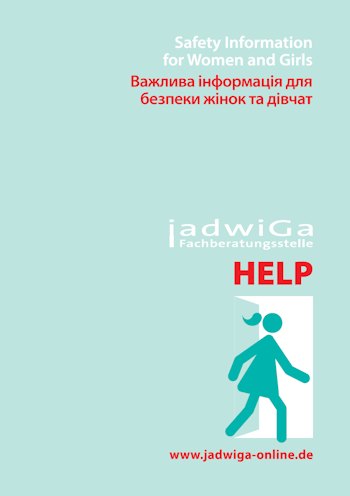 JADWIGA is offering you tips and information in order for you to remain safely in Bavaria.
War and displacement tend to make women and children more vulnerable and at risk of becoming victims of crime. In Bavaria, many are currently offering help and support for persons coming from Ukraine. Unfortunately, among the "helpers" are sometimes also persons with bad intentions. This is the case of human traffickers, who are taking advantage of your current crisis.
Download this information (pdf-file)
For your own safety, please consider the following advice:
1. Do not let anyone keep your passport. Take a picture or make a copy of it and send it to a trusted person. This could help you in case your document gets lost or stolen.
2. Keep your phone always with you. Memorize the phone number of a trusted person and agree upon a codeword, which you can use when you are in danger and cannot speak freely.
3. Take a picture of the registration plate before you get into a car. Send it to a trusted person. If the driver does not allow this, you should better avoid getting into the car.
4. In case you are offered shelter within a private house/apartment/room, ask to see the ID of the person offering you this support and write down the name and address. You have the right to get registered at this address and to receive social benefits.
5. In Germany, you have the right to get employed based on an employment contract and to receive a minimum wage of roughly € 10. Pay particular attention, if someone is promising you to earn a lot of money within a short time span.
6. Write down names and phone numbers of organisations offering help and support. In Germany, the support services are available to everyone free of charge. Do not pay anything for apparent intermediates.
7. Not only men can be human traffickers. You should not trust women blindly just because they are women. Keep in touch with other relatives, friends, and refugees.
In case you feel in danger, ask for help:
Exploitation/human trafficking:
Specialised Counselling Centres
JADWIGA Munich: 089 38 53 44 55 (Counselling possible in different languages, including Ukrainian) or
JADWIGA Nuremberg: 091 14 31 06 56 (Counselling possible in English)
Violence against women: Helpline 08000 116 016 (around the clock)
In cases of emergency: Police 110